For the first time in over a decade, professional boxing returned to Nelson at the weekend.
The Trafalgar Centre was temporarily transformed, with a ring taking centre stage at the indoor stadium on Saturday night.
The card saw ten bouts take place from amateur to professional. It was the corporate rounds kicking off proceedings, with Kirsten Takao and Tessa Hogge representing Dixon's Boxing in Nelson.
The night marked the in-ring debut for Kirsten who defeated Canterbury's Kelly McKay.
Kelly had experience on Kirsten and won 'fight of the night' at her previous event in September.
But Kirsten went straight at her from the start to the final bell and came away with a split decision win.
Her husband Hoani didn't fare as well, losing to Riki Winiata after trainer and event organiser Randall Dixon called off the fight early into the second round.
---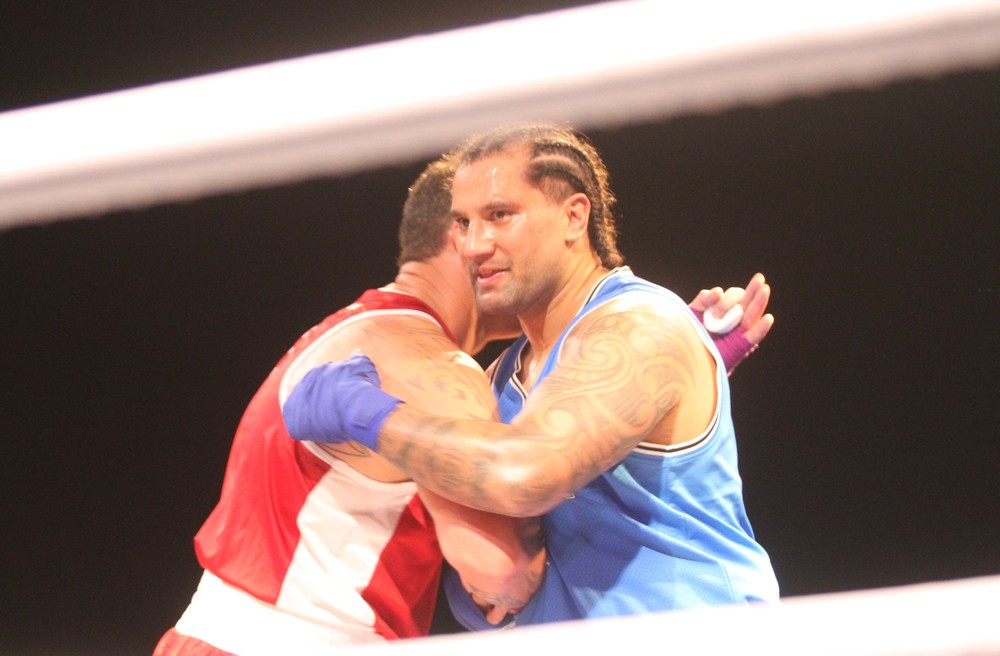 Hoani Takao congratulates Riki Winiata after his second round victory at Legends of Nelson. Photo: Jonty Dine.
---
"Hoani got caught with a heavy shot in the second round. I was not sure if he had fully recovered from being hit so I decided to throw the towel in in case he wore another heavy
blow," Randall said.
Tessa Hogge was up against a very tough Erica Spackman but managed to put two eight counts on her opponent and won by a unanimous decision.
Dixon's Sarah Allen lost her bout by a second round TKO after she dislocated her shoulder against Nicole Prouting to round off the corporate fights.
"Sarah's one tough lady and wanted to carry on with the fight, but the decision was made by the ring doctor and myself to not let her continue," says Randall.
Nelson Muay Thai fighter Caleb Brash took on Tukana Tuira from Dixon's in an exhibition bout halfway through the evening.
Another Nelsonian Ricky Esilva also enjoyed a victory, over youngster Hoani Takao.
In the evening's first professional fight, former Nelson man Jack Boote came all the way from the Gold Coast to have his last fight, against Henry Schoeman.
It was a good technical performance from Boote who utilised his superior speed and fitness to win the fight by a unanimous decision.
Reece Papuni, a former Commonwealth Games, New Zealand amateur and professional champion, stopped his opponent, Alex Tzinavos, in the second round.
Reece showed his skills and power in front of the Nelson crowd, dropping Alex twice in the second.
Randall says he hopes to make Legends of Nelson an annual event.
He has heard nothing but positive feedback from the fighters, coaches and the Nelson community.
The Dixon Boxing Gym founder says they have come a long way on a short period and the Dixon's boxing team did themselves proud.