Don Carter may well be the longest serving greenkeeper in the country.
The Richmond resident has been preparing the greens at Stoke Bowling Club for more than half a century, longer than anyone he knows in his vast network of greenkeepers.
"I don't know of anyone who has done 50 years," he says.
Don was recently honoured at the Nelson Sports Awards with a Rata Foundation Life Service Award.
The 82-year-old says it was a rare moment of adulation in an often-thankless job.
"You don't get many bouquets."
A reluctant Don required some convincing to attend the awards.
"It was quite an honour, it's not my cup of tea, that sort of thing," he says.
"I'd just be quite happy to do me work and leave it at that, but I got pressured into it and said yes in the end."
Don has been recognised in the past for his tireless dedication through the New Zealand Greenkeepers Association, but says this award ranks right up there.
"It probably tops."
His extensive career began back in the 1950's when he managed an orchard for a "bloke who was a bowler".
"We started going to the fruit grower's tournament. I wasn't a player at all, I had never had a bowl in my hand but that's how I got into it and I rather enjoyed it."
Don's boss gifted the then 24-year-old his first set of bowls and dragged him down to the club to join in 1960.
"I've been here ever since."
While still managing the orchard, Don started assisting the club's greenkeepers in his spare time.
"We had a heap of soil in the shed and I went down and give them a hand because they were older fellahs, so I went and helped spread the soil."
Don would go on to volunteer for seven more years until he was offered an employed position.
One thing led to another, and Don was soon advising other greenkeepers and managing two greens in Nelson, two Richmond and two in Stoke.
"It was a big job from daylight till dark, seven days a week."
---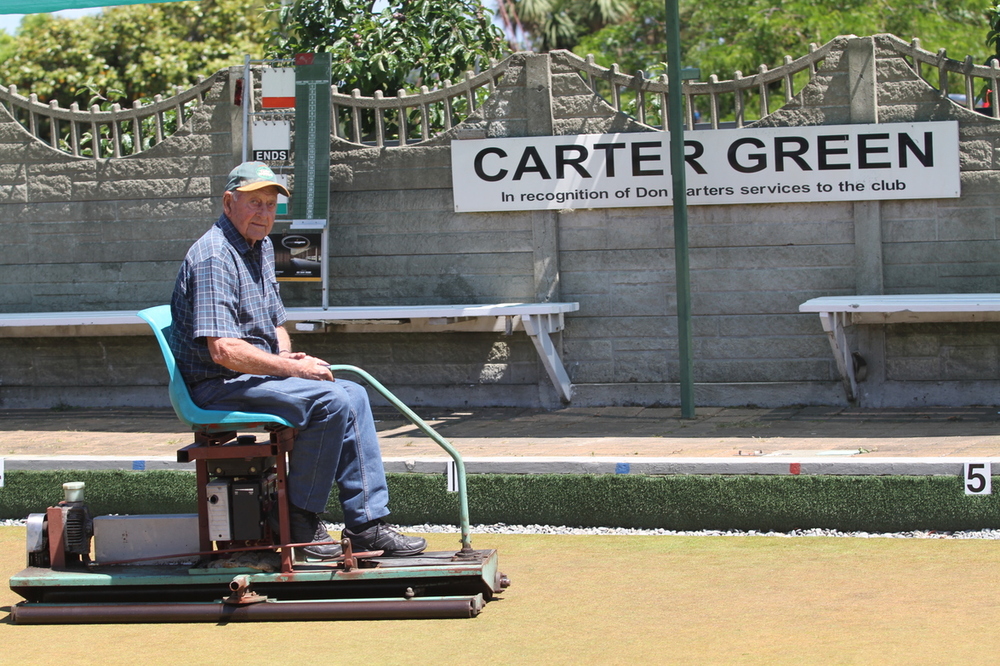 At 82-years-old Don is still down at the greens working seven days a week. Photo: Jonty Dine
---
While he has cut back on the hours, Don is still working seven days a week maintaining the two greens at Stoke.
"I like to start early and get my work done," he says. "I get down here at about 6.30am to have the greens ready for the first games at 9am."
He says working with plants, fertilizer and spray was ingrained in him at an early age.
"I had a slight advantage because I've always worked on the land; my father was an orchardist."
Don has even had one of the greens at Stoke named after him.
However, despite being his pride and joy, the 'Carter Green' doesn't get any better treatment that the other one.
He has not only spent decades as a player, Don has also been a coach, selector, life member, president and patron.
Don has won 16 centre titles and more than 30 club titles, both records which still stand today. He has also represented Nelson for 18 consecutive seasons and once finished a national tournament as the fourth best player in the country.
However, his true passion lay on the surface and he retired as a player 12 years ago so he could dedicate himself to bowling greens.
But no matter how perfectly Don prepares a green, there will always be players to blame it for their performance.
After 52 years at the helm, Don admits his time as one of the country's longest serving greenkeepers may be nearing an end.
"I am probably at the stage now where maybe 12 more months and I'll possibly retire from greenkeeping, but I have really enjoyed it. I don't think one day I've never woken up and thought 'oh I have to go and face those greens'."